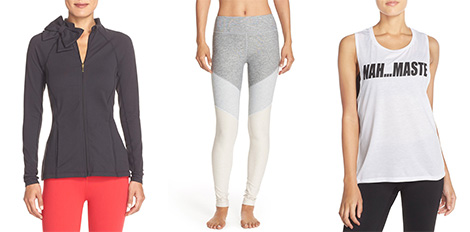 With warm weather finally here and summer around the corner it is time for some amazing Spring FITNESS fashion! Here are some of my favorite spring fitness trends to add to your closet this season. Keep your workouts fun and fresh with athletic clothes that are functional and make you feel fabulous.
Bralettes are a cross between a sports bra and a workout top making a chic and trendy piece that can take you from a sweaty barre class to the streets seamlessly. Love this one from Zella, which is simple, black and strappy.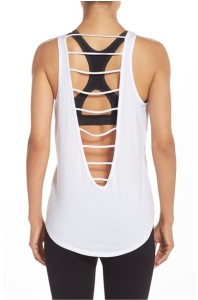 Spring and Summer is the perfect time to try out this new trend – the cutout tank. Lightweight and breathable, this tank is great to layer over a colorful sports bra.
Yoga pants just got way more fun with these colorblock patterns. I also love the mid-rise style that is supportive and chic to keep everything in place during a challenging workout.
The style is new and fun and oh so comfortable! Perfect for going from a workout to a day out, these pants take sporty-chic to a whole new level.
Be bold with this mesh crop top that adds a little more coverage with breathable sheer fabric. Perfect to throw over your favorite sports bra and add a sporty look to your outfit.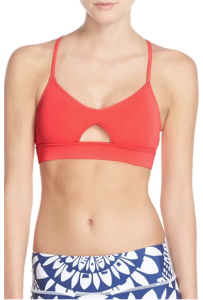 Fall back in love with workout clothes with this adorable cutout sports bra. Modern and chic, this cutout top is breathable and perfect for a barre or yoga class. I also love this fun, coral color.
Stay cool during your workout with a muscle tank that has a fun saying. Add positive vibes to your workout with t-shirts that share your personality and motivate those around you.
Sporty shorts with a chic pattern is such a great combination. With a wide flattering waistband, and fun python print – these bike shorts will take your cycling game to the next level.
Completely obsessed with this adorable fitness jacket from Kate Spade. Definitely a splurge but who could resist the bow! Luxury has officially entered the active wear world and we love it.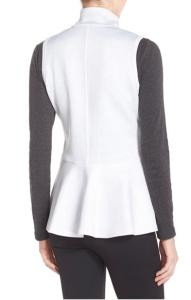 Lightweight and stylish, this vest has a chic peplum back that looks feminine while being functional. The perfect layering piece for spring when you need a little extra warmth but do not want a full jacket.
Let me know which of these spring styles YOU are completely obsessed with in the comments below. Spring fitness style is here and these pieces are a few fun ways to switch up your style and keep your workouts trendy and fun.
xoxo,
Your Trainer
Marielle