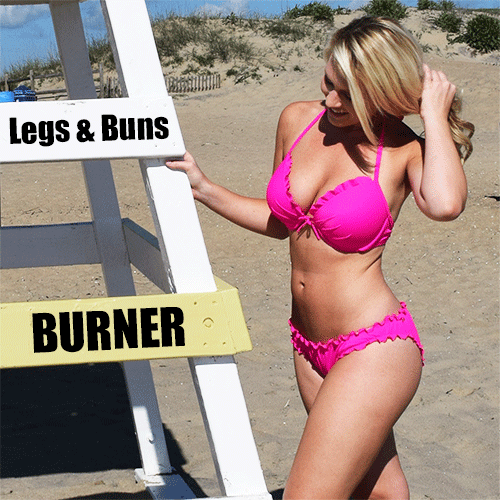 BUILD a booty and TONE long lean legs with this – Legs & Buns Burner workout. Get that lower body ready for bikini season with this easy to follow mat workout…no equipment needed! Tone, sculpt and lift the booty and work inner and outer thighs at home in just 12 minutes.
I love lower body mat workouts that make you feel the burn without a lot of strain on the joints. If you hate doing squats and lunges – there definitely are lots of effective alternatives that will help tone the quads, glutes and hamstrings. Also, if you ever have knee or ankle injuries, these moves can be a great way to ease back into working out while you are still recovering. (Of course talk to your doctor or physical therapist first!)
Summer is just around the corner so we are all trying to get that lower body in shape, toned up and ready for short shorts, skirts, dresses and of course bikinis. This is a great workout to pair with any of my other strength videos on YouTube, or with one of my cardio videos. You can also do it after a power walk or run in your neighborhood to add some strength training in to tone the muscles. Research says you should aim to work all the major muscle groups at least twice a week – so keep that in mind when planning out your weekly exercise routines.
I hope you enjoyed this workout video. Comment below and let me know what you liked about it, and any ideas you have for workout videos you would like to see in the future! Leave me your ideas below and I will add them to my list of what to create for you all next. : )
Keep up the amazing work you are doing SO GREAT this summer. Make sure to check in on social media using the hashtag #SummerGirlFitness.
xoxo,
Marielle Collins