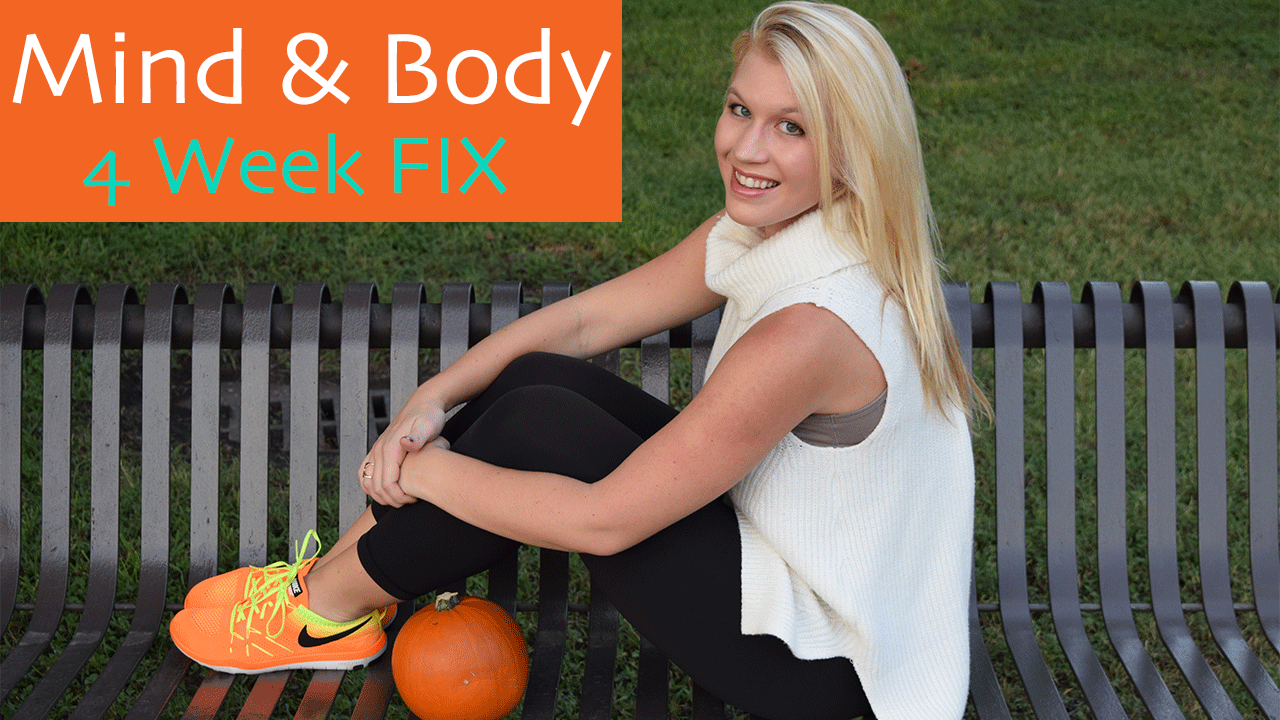 Fall is finally here, and with school starting back up, jobs kicking into top gear, vacation over and life getting busy – it is more important than ever to make your HEALTH a priority. This year for our fall challenge I wanted to do something different and take a wholistic approach to health and weight loss with a challenge that focuses both on getting your body in shape, and your mind.
This 4 week fix focuses on both mental AND physical health, by challenging you with workouts, healthy eating and lifestyle changes and mindfulness, positivity, stress reduction and self-esteem. Get ready to KICK START your fall with the Mind & Body – Fall 4 Week FIX .
This challenge is about eating CLEAN and healthy foods to nourish your body and help you look and feel your best. This FIX is about the foods and fitness that will make for a healthier and happier YOU and the mental habits you can create and kick to live your best life.
Fitness Calendar with ALL Workouts Scheduled
Mindfulness Techniques & Weekly Positive Affirmations Emailed to You
NEW Skinny Fall Recipes
Trainer Tip Videos Focusing on Motivation, Stress Relief, and Self Empowerment
Meal Prep Tips and Instructions
Fitness Measurements Chart
Tips & Inspiration
Join the Mind Body Challenge and see change in your how you look AND how you feel!
Once you sign up, you will receive an email with everything you need to jump start your mental and physical health. This program takes the guesswork and stress away with simple rules for healthy eating, workouts planned for you everyday, and motivation and wellness techniques that target your whole self to find success.
Get ready for your best Fall yet! <3 <3
xoxo,
Your Personal Trainer
Marielle