I am not a makeup expert by any means but I am definitely a makeup lover! Sephora is basically my kryptonite…is it possible to go in there and NOT find 5 things you absolutely need?! I love experimenting with new products and discovering the ones I cannot live without. These are my currents makeup favs that are my go-to for every day.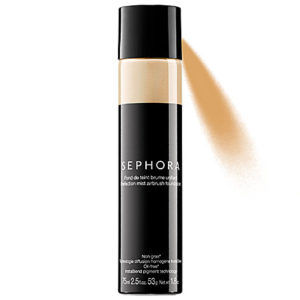 I love light coverage for every day that creates a smooth, natural finish without feeling heavy, greasy or cakey. That is definitely what this foundation gives you and I love how affordable it is too! I apply it by spraying it on a brush and then applying in circular motions, but you can also use a beauty blender.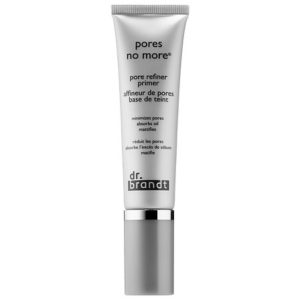 It is impossible for me to apply foundation without a good primer first. This one is by far my favorite. It goes on super smooth and definitely minimizes the look of pores. It also works well for oily skin and does not cause breakouts at all. This one is kind of a splurge but super worth it in my opinion.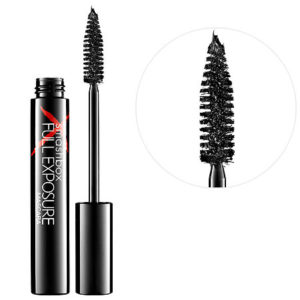 Nothing makes your eyes look brighter, bigger and more awake then an awesome mascara. I have tried so many out there – but I love this smash box one because the brush is so big and fluffy it really creates amazing volume. Also it is a good midrange price as well, and creates the perfect balance of length and volume lashes.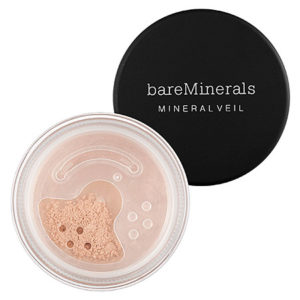 I always set my foundation and makeup with a translucent powder, and the bareMinerals Mineral Veil has been my favorite for years. It goes on super light and creates a photo finish and helps your makeup last longer. It also helps eliminate any shine or unevenness in your skin tone.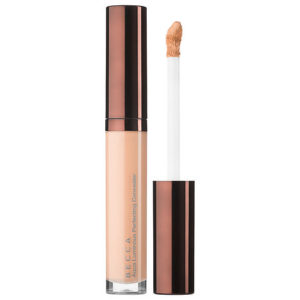 Ok so the secret to bright awake eyes in the morning is having a good under eye concealer. The key is to use a color slightly lighter than your all over foundation so that you hide dark circles and brighten the undereye. This concealer by BECCA is illuminating and SUPER hydrating which is amazing since the undereye area can get very dry. The concealer blends so easily and has a dewy, light and breathable coverage.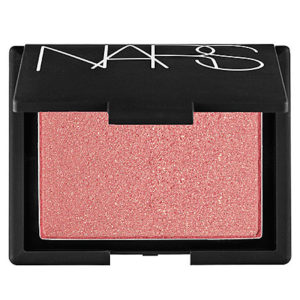 I have been obsessed with this blush for years. I have used the shade orgasm and super orgasm at different times over the years – super orgasm has a slight shimmer in it though that I just love. The color is amazing and the blush always looks super natural.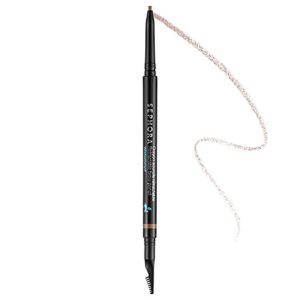 I have super light eyebrows that have no definition because my hair is so light, so coloring and defining them in slightly really makes a huge difference. I use the Sephora retractable brow pencil because it is easy to apply, water proof, and literally SO cheap at $12. I love to splurge on some products and really save on others! Color – Neutral Gray Brown.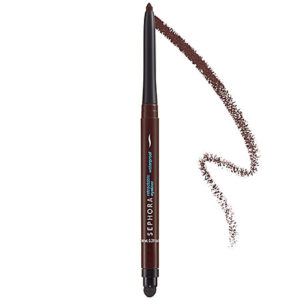 For everyday I use a little eyeliner on the top and bottom of my eye lid just in the corners to define my eyes. For an everyday look I use the brown liner in Matte Deep Chocolate because it looks super natural. Again the Sephora brand works great and is super affordable.

This lip stain is my ultimate drug store secret find. It is super hydrating and glides on your lips easily. The honey color is the perfect blend of hint of color while still looking simple and natural for every day. Also you cannot beat the price of this lip stain and you can find it at CVS. #winning
I don't always wear eyeshadow for an everyday look, but when I do I love this simple eyeshadow duo from NARS. The colors are neutral and so flattering on almost any skin tone. I use the darker shade on my lid and the lighter one up by my eyebrow and in the inner corner of my eye to brighten.
I hope you enjoyed reading about my everyday makeup favs! Having a simple go-to look makes mornings way less stressful…and your face always looking fabulous. Let me know in the comments section below what products YOU are obsessed with. I always love new suggestions!
xoxo,
Marielle