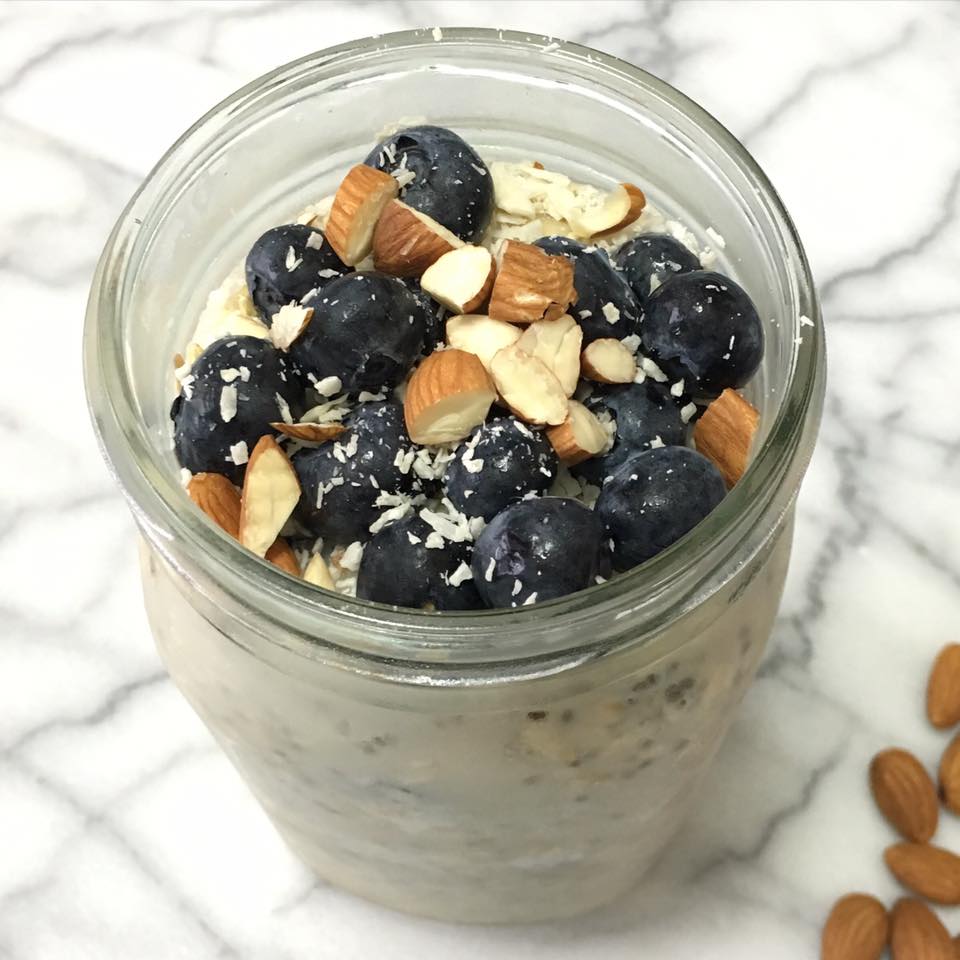 Overnight oats are so easy to make and are the perfect grab-and-go breakfast to make if you tend to have busy mornings. These are perfect to make the night before, because as the oats and other ingredients set overnight the oats soften in the almond milk and all the other nuts and berries integrate the flavors into the mix. Because of this, overnight oats taste even better the next morning! This recipe is one of my favorites because I LOVE blueberries and almonds, but you can substitute any fruit or berries you like and any nuts as well. There really is no way to go wrong with this recipe, so have fun with it – try different toppings and ingredients – and find you favorites.
Calories per 1 serving: 434 (without honey: 370) 
Ingredients:
1/2 cup organic oats
2/3 cup organic almond milk
1 tbsp chia seeds
14 almonds chopped
1/2 cup fresh blueberries or other berries
1 tbsp honey/maple syrup (optional) 
Directions:
Start with either a large dish, mason jar, or glass. First put your oats and chia seeds in the bottom of the jar, add the almond milk on top  and maple syrup and stir the mixture together. Next add the nuts and blueberries and stir gently but try not to crush the berries. If you mix the berries too hard they can turn into mush, but you want the oats fully combined before you set it in the fridge. Cover you jar with some plastic wrap or foil and put it in the fridge. Leave the oats to set overnight so everything can fully combine and oats can soften. When you take the oats out the next morning you can chop some banana to add on top or fresh blueberries. Enjoy!
Leve me a comment in the section below and let me know what you favorite overnight oat ingredients are. xoxo