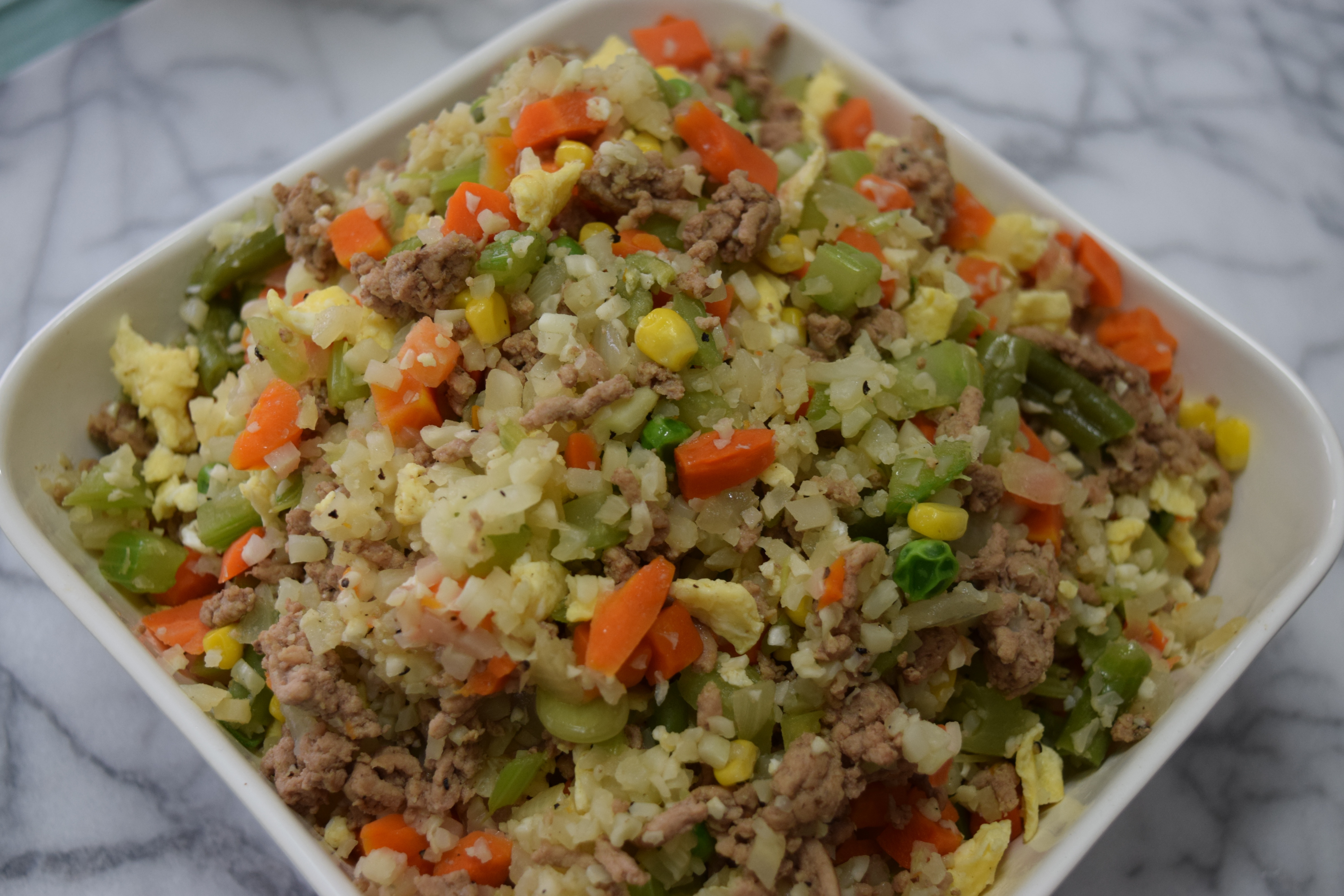 I love fried rice…I mean who doesn't right? But regular fried rice is definitely not the most healthy meal. One of my favorite things to do is take one of my favorite less healthy meals, and change it up to create a healthier version that still tastes amazing. This fried rice is so simple to make, and super affordable. Depending on what types of fresh ingredients you use this meal can easily cost under $10 and make lunches or dinners for 4 days! Who said eating healthy had to be expensive? To make the cauliflower rice you can either buy a whole head of cauliflower and then use a food processor or blender to chop it up finely into rice. Another option is Trader Joes actually sells cauliflower rice already chopped up so if you are short on time you can opt for that. You can also use either chicken, beef, or turkey mince – or add tofu for a vegetarian option. Give this recipe a try and let me know what you think!
Calories per 1 serving: approximately 375 
Ingredients:
1 Onion chopped
1 Head of cauliflower (put in food processor to turn into cauliflower rice)
1 Pack of ground chicken, turkey or beef
4 Large carrots chopped
3 Stalks of celery chopped
2 Cups of frozen mixed vegetables/other vegetables such as mushrooms, peppers etc.
4 Eggs
Coconut Aminos or Soy Sauce to taste
Salt and Pepper to taste
Directions:
First put the meat and chopped onions in a stir fry pan and cook the meat until almost done and onions are caramelized. Then add in the fresh/frozen vegetables and cook for another 4-5 minutes on low. Next add the cauliflower rice into the mixture. Add coconut amino or soy sauce to taste, and salt and pepper. Mix together completely and turn heat to low. Next cook the eggs in a separate small skillet and chop into small pieces. Add the egg to the stir fry and mix together. Taste to check seasoning and add more if needed. Cook on low for a few more minutes and mix to combine fully. Take the fried rice off the heat, serve and enjoy!