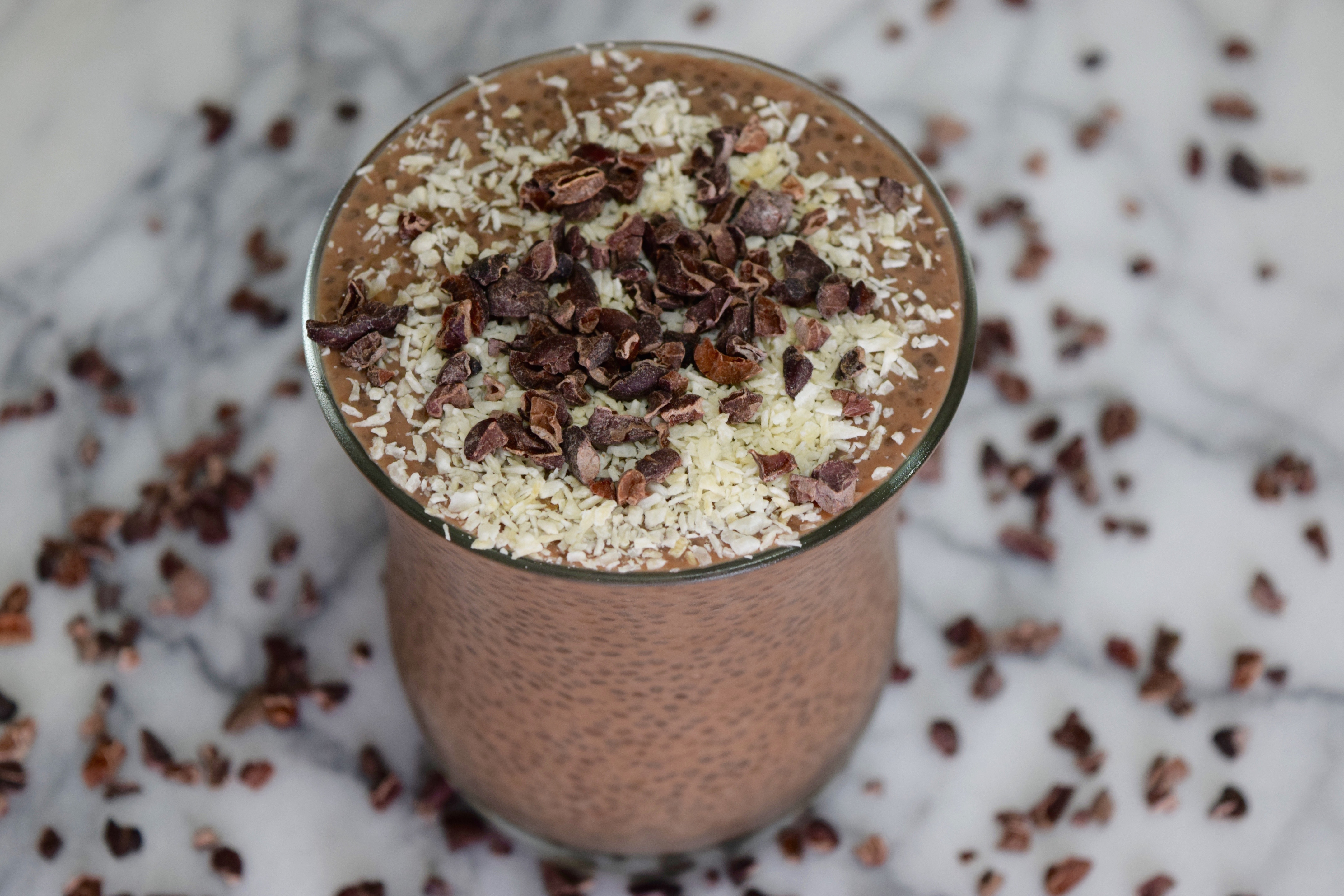 I love chocolate, and there is nothing better then a clean chocolate dessert that is also FILLED with health benefits. Chia seeds are an amazing source of fiber, protein and omega 3s and are one of the ultimate super foods. When chia seeds are mixed with liquid they make a gelatin substance, similar to tapioca, and this pudding is an incredible example of this. You can mix berries into the pudding itself before you refrigerate it, or make the basic chocolate chia seed pudding and top it with berries or whipped cream later. If you choose to use a sweetened almond milk you can add or not add the maple syrup depending on how sweet you want it to taste. This is one of my favorite ways to get that little bit of chocolate after a healthy meal without breaking my clean eating. I love to top my chocolate chia seed pudding with coconut whipped cream and dark chocolate shavings for an extra decadent treat!
Ingredients:
1/2 Cup Chia Seeds
2 1/4 Cup Almond Milk
2 Teaspoons Maple Syrup (not needed if using sweetened almond milk)
1 Teaspoon Organic Cocoa Powder
1/2 Teaspoon Vanilla
1/2 Cup Berries (strawberries, blackberries, raspberries, blueberries) optional
Toppings: Extra berries, coconut, cocoa nibs
Directions:
In a mason jar or other glass container, pour almond milk, maple syrup and vanilla and stir together. Then add the chia seeds and cocoa powder. Stir again with a spoon until fully combined. Add 1/2 cup of optional berries into the mixture if you want berries mixed into your chocolate pudding before it sets. Place your mason jar in the refridgerator overnight to allow the pudding to set fully. Once the pudding has set and is a jello-like thick consistency, spoon some into a bowl and top with shredded coconut, berries, or any other toppings you want. Serve and enjoy!