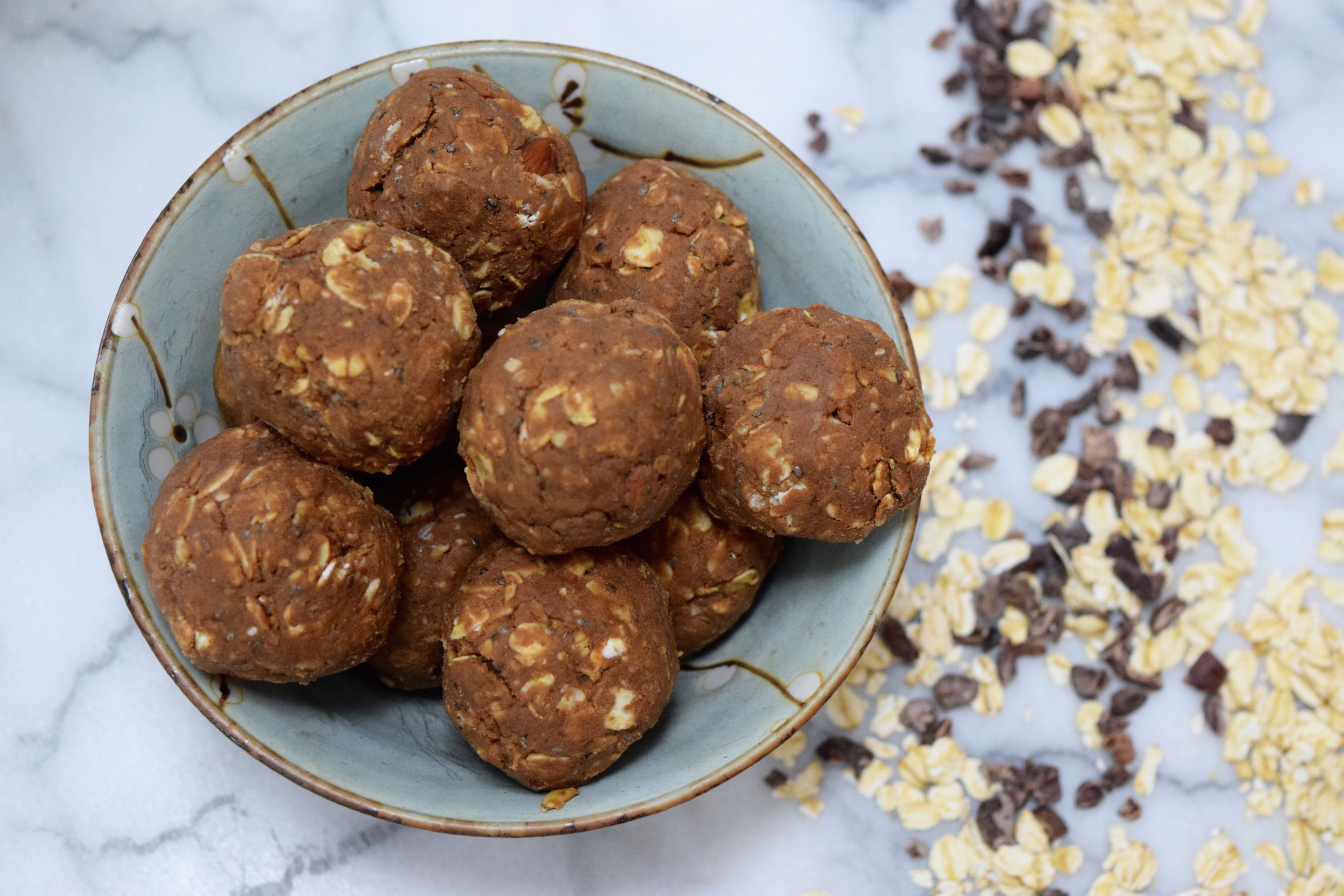 Protein balls are a wonderful quick and easy pre or post workout snack you can make ahead of time, and grab and go when you need it. They also are perfect to pack in tupperware and take with you to the gym or to work. You can add any nuts you want to this recipe, and substitute almond or cashew butter instead of peanut butter if you want. In addition, to make these protein balls vegan chose a vegan protein powder and substitute maple syrup or agave instead of the honey. You really cannot go wrong with these protein balls, and any additional dried fruit or nuts you want to add are perfect. Make the recipe your own!
Ingredients:
1 Cup Oats
2 Scoops Chocolate Protein Powder
1/2 Cup Peanut Butter
1/4 Cup Honey
2 Tablespoon Chia Seeds
1/4 Cup Almonds Chopped
1/4 Cup Almond Milk
1 Teaspoon Cinnamon
Directions:
First mix together the dry ingredients: organic oats, chocolate protein powder, chia seeds, chopped almonds and cinnamon. Toss ingredients into a medium size bowl and then mix dry ingredients together until combined. Next, in a small bowl put peanut butter and warm in a microwave until soft. Add the honey and almond milk and mix the wet ingredients together until fully combined. Finally slowly add the dry ingredients into the wet ingredients in 3-4 parts and use your hands to combine the mixture. Once the protein balls all fully combined, pull apart a small amount of dough and roll into a ball. Continue making balls until all the dough is used. Place protein balls on a plate, cover with plastic wrap and allow to cool fully in the refrigerator. After waiting for balls to cool, enjoy!
Let me know in the comments below what ingredients YOU like in your protein balls, and what your favorite pre and post workout snacks are. <3