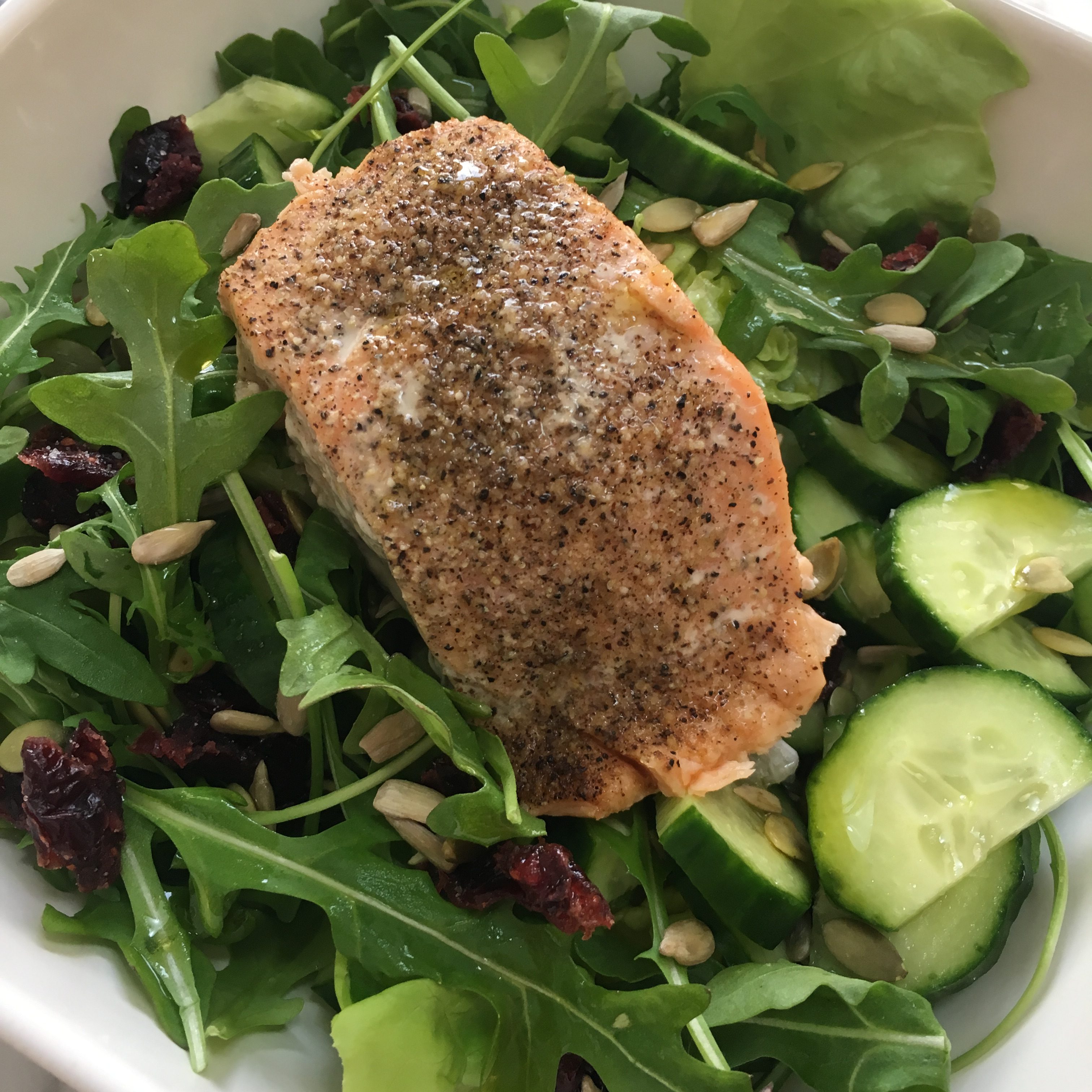 Salmon is one of my absolute favorite healthy dinners. I love to make a large salmon fillet and have it with cooked vegetables for dinner, and then eat the other half as a salmon salad for lunch the next day. Salmon is full of healthy fats of nutrients that our body needs, and amazing lean protein. My favorite way to make salmon is simple, fresh and healthy. Make sure to use a fresh lemon for this recipe if possible and invest in some good herbs to get the most flavor.
Ingredients:
Salmon Fillet
Fresh Lemon Juice
Herbs de Provence or other seasoning
Olive Oil
Sea Salt
Fresh Ground Pepper
Directions:
Preheat your oven to 400 degrees. Cover a baking sheet with foil and place your salmon fillet in foil on the sheet. Use a fork to poke holes all over the top of the salmon to allow the spices and lemon to soak into the fish. Next drizzle olive oil over the salmon and sprinkle sea salt over the top and bottle of the fillet. Next add fresh ground pepper and herbs de provence or any other seasoning that you want on top. Finally squeeze a fresh lemon over the fillet. Cover the fish with foil. Bake in the oven for around 10-30 minutes depending on how big the piece of fish us – or until the center of the salmon is cooked through. If you are not sure how to know your fish is done you can use a meat thermometer to check the internal temperature and cook the fish perfectly!
Once your salmon is cooked you can serve it with steamed veggies, or on top of a salad for a clean and delicious dinner or lunch. I usually have salmon at least once a week. Let me know what you think of the recipe in the comments section below!