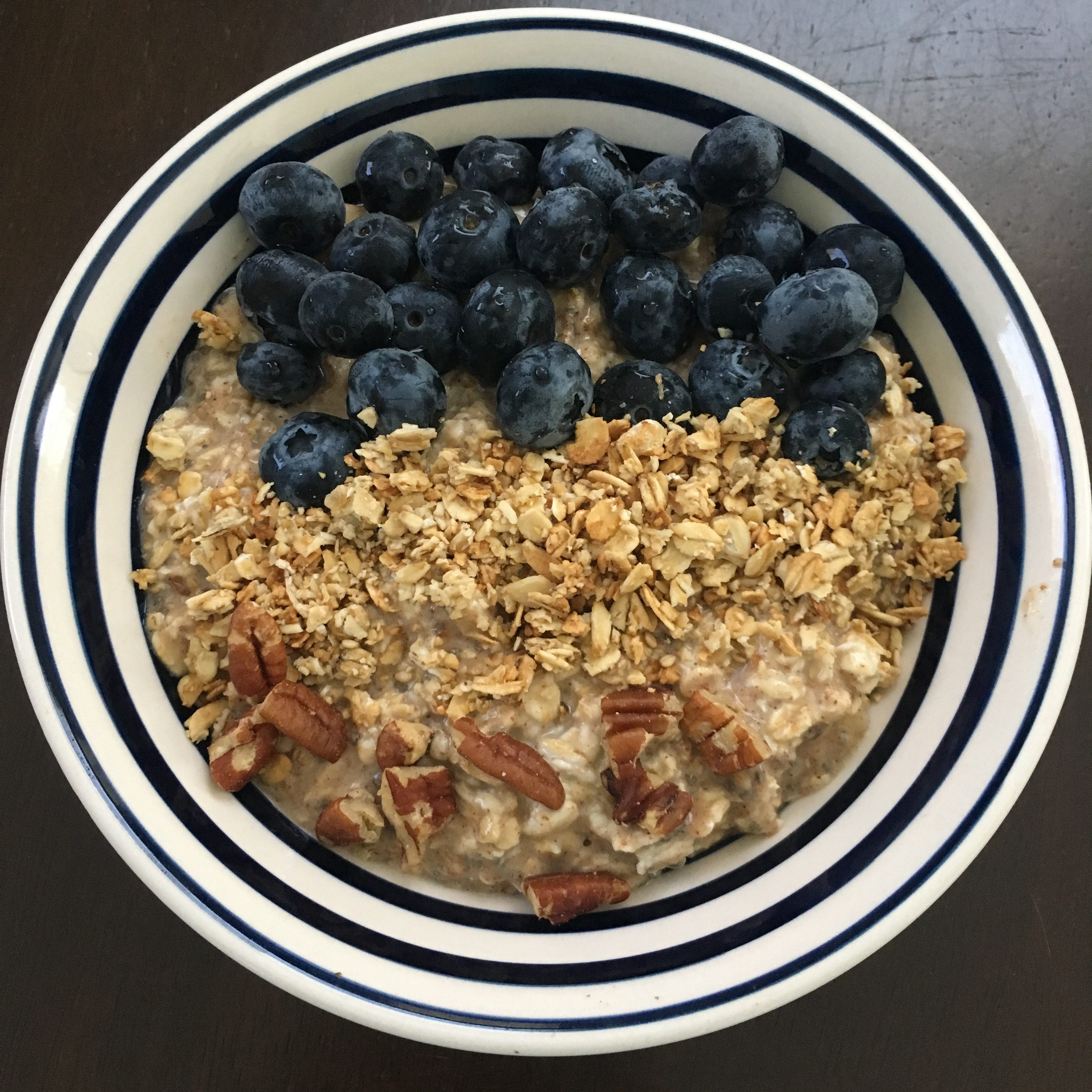 Overnight oats are literally my new obsession! They are so versatile, simple to make, and delicious to grab and go in the morning if you are pressed for time. On the weekends when I have more flexibility with my schedule I like to break overnight oat breakfast bowls and add toppings almost like a parfait. Below is my new favorite recipe that I have been making recently and I just cannot get enough. If you are looking for a healthy weekend brunch option to make for your hubby or roommates, this is a perfect go to and you can have fun with it by creating a toppings bar and letting your friends top the oats with whatever they love!
Calories per 1 serving: 464 (without honey: 400)
Ingredients:
1/2 Cup Organic Oats
1 Tablespoon Almond Butter
2/3 C Almond Milk
8 Pecans Chopped
1/2 Banana – Sliced
1 Teaspoon Cinnamon
1 Teaspoon Honey or Maple Syrup (Optional)
Directions:
In a mason jar or glass add the oats, chia seeds, pecans, sliced banana, cinnamon, almond butter and honey. Next pour almond milk all the way to the top. Use a long spoon to stir the mixture together. As you stir the oats will start to absorb the almond milk. Stir until combined and then add more almond milk so that the liquid covers all the way to the top of the oats. Put the mixture in the fridge and allow it to set overnight. Overnight the oats mixture will continue to absorb the almond milk and settle together. In the morning take out your oats and spoon them into a bowl. Top with more pecans, fresh blueberries, shredded coconut, organic granola and any other toppings you love! I am currently loving pecans so those are my nuts of choice here, but any can work or leave them out and use coconut milk instead for a nut free version.