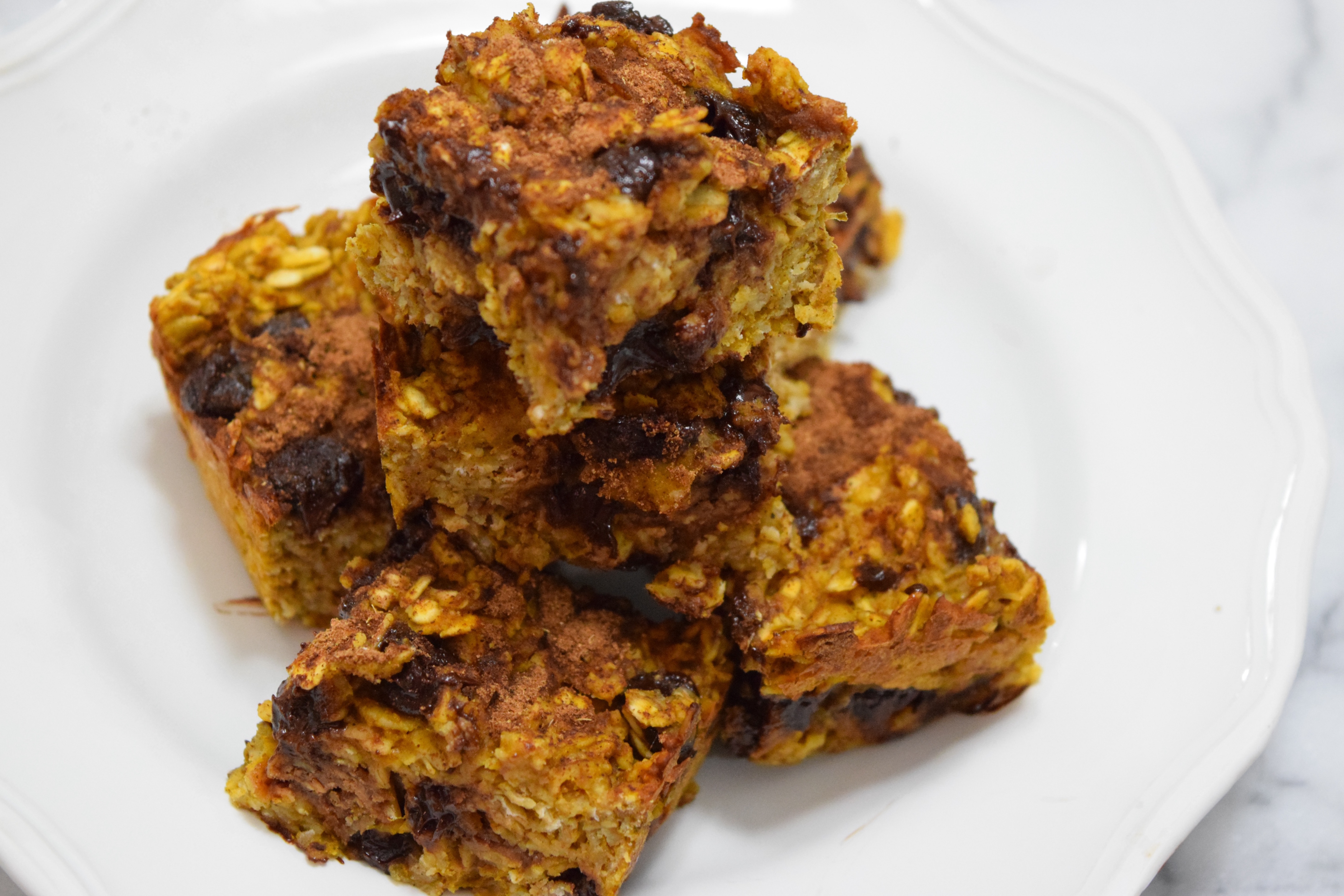 It is fall which means time for pumpkin pie spice EVERYTHING! These oat bars are a great breakfast option and taste especially amazing with the Trader Joes pumpkin pie spice coffee. I usually have egg whites for breakfast but every so often I want something sweet in the morning. The oat bars have a hint of sweet from the chocolate chips but are hearty and filling with the oats and nuts and have no refined sugar, oil or butter added. If you want the bars sweeter you can use more honey and chocolate chips – or take out the chocolate chips for a less sweet option. These oat bars also make a delicious afternoon snack or dessert. You can add any other nuts or seeds you want to mix things up and create your own version.
Ingredients:
1 Cup Pumpkin Puree
2 Cup Organic Oats
2 Eggs
1 Teaspoon Pumpkin Pie Spice
2 Tablespoons Almond Butter
3 Tablespoons Honey
1/3 Cup Organic Chocolate Chips
1/2 Cup Chopped Walnuts
Directions:
Preheat your oven to 350 degrees. In a medium sized bowl mix together pumpkin puree, eggs, almond butter and honey. In a second bowl place organic oats, chocolate chips, chopped walnuts and pumpkin pie spice. Gently fold together wet and dry ingredients until completely combined. Spray a loaf pan or line with parchment paper to avoid sticking to the pan. Place the mixture in the loaf pan and pat down to fill the pan completely. Bake at 350 degrees for around 20 minutes or until a toothpick inserted comes out clean. Allow the oat bars to cool for 10-15 minutes and then cut into squares and enjoy! Make sure to store the bars in an air tight container to enjoy all week long.
Let me know in the comments section below what you think of this recipe, and your favorite way to use pumpkin puree this season.