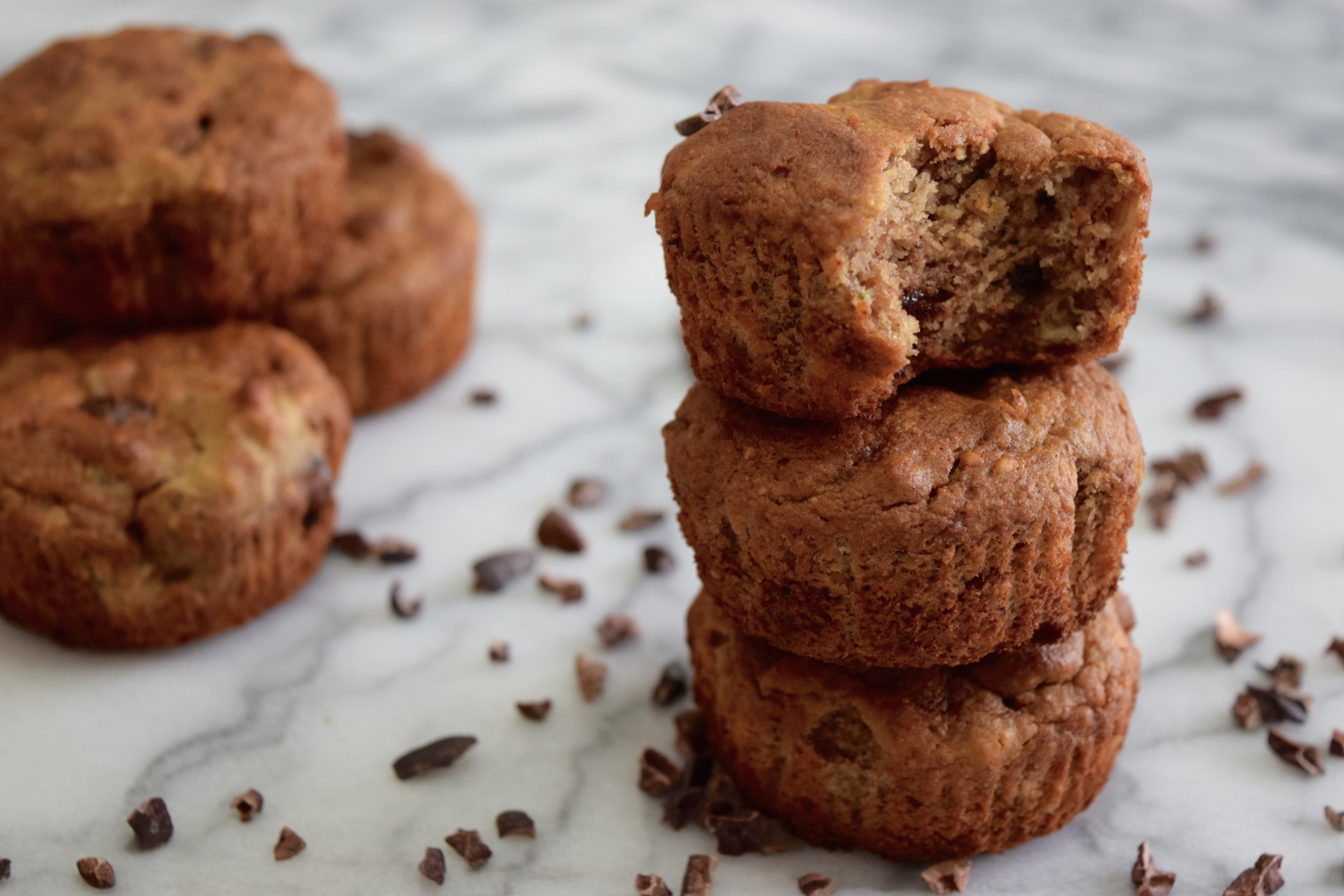 So confession – these muffins are my new OBSESSION. They are so moist and delicious, and made with no added oils, butter or refined flour or sugar. These muffins are perfect for breakfast or a quick afternoon or post workout snack. You can make a batch and freeze them, or make them for friends to share. You can add any additional nuts or dried fruit, and choose to eliminate the chocolate for a less sweet version. Make sure you use bananas that are very ripe so you can easily mash them until smooth. You can also use honey or agave instead of maple syrup for other options. The almond flour works beautifully in this recipe, but you could use other flour options as well. The recipe below makes 12 muffins, and if you divide the batter into 12 muffins cups then each muffin has only 105 calories.
Ingredients:
2 Ripe Bananas
1 Egg
1/3 Cup Almond Butter
1/4 Cup Maple Syrup
1/2 Cup Almond Flour
1/2 Cup Vanilla Protein Powder
1 Teaspoon Baking Soda
1/4 Cup Chocolate Chips or Cacao Nibs
Directions:
Preheat the over to 350 degrees. Mash 2 ripe bananas in a bowl with a fork until completely mashed and soft. Crack one egg into the bowl and mix the egg and banana together thoroughly. Add the almond butter and maple syrup and stir the mixture together until smooth. In a second medium sized bowl put the almond flour, protein powder and baking soda and mix lightly. Slowly add the dry mixture to the wet mixture in 4 parts. Fold the batter together until combined. Add chocolate chips, cacao nibs or any other dried fruits or nuts into the batter at the end and fold in gently. Divide the batter evenly into 12 muffin cups. Bake the muffins in a 350 degree over for 15-20 minutes or until a toothpick inserted into the center comes out clean.